Our professional expertise
at your service
Property sales and estimates
You've spent some wonderful years in Grimentz – Anniviers,
or maybe you are looking to buy a new place.
Whatever your reasons for selling your property,
by enlisting the services of a professional, we will get you the right estimate
for your property in the time available to you.
Indeed, your expert will ensure that your expectations and objectives are met in order to find the buyer under the best possible conditions. We are completely impartial, know the local market and the clients' needs and apply the best tips for advertising and marketing the property. On site, we manage all queries from potential buyers, organize and conduct visits, supply all relevant information, act as negotiator between the client and a third party
in order to close the deal. Our wealth of experience, our local knowledge and networking helps with banking, administrative and legal procedures for both parties, and ensures a detailed follow-up of procedures in agreement with the signatories, notably if they are non-Swiss residents, and helps everything run like clockwork.

We ensure the transaction is concluded honestly and faithfully.
If you would like an evaluation of your property whether it's
for inheritance purposes, a mortgage or if you are thinking of
putting your property on the market?
Call our experts to give you an estimate.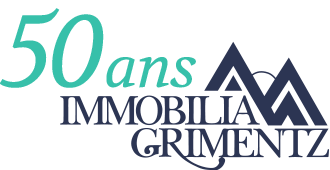 In 2018 Immobilia-Grimentz
celebrated 50 years of activity.
Surely that gives you some idea
of our professionalism and trustworthiness.
What we offer:
A constant eye
on the market
Analyticial
property
expertise
Determining
and proposal
of sale price
Sales
marketing
and
advertising
Active research
for the buyer
Objective
negociations
between
buyer and seller
Advice and
support
during
the sales